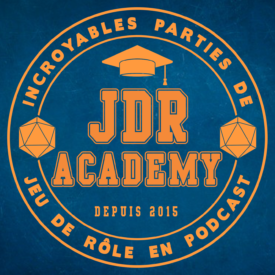 Après une « petite » pause, la JDR ACADEMY est de retour avec un nouveau jeu ! Et pour l'occasion, nous faisons coup double. Deux épisodes pour le prix d'un !
Nous jouons à Monster of The Week, un jeu de Michael Sands et édité en France par Studio Deadcrows et Raise Dead Editions. Le système est « propulsé par l'apocalypse » et le scénario est maison.
Plus d'infos sur le jeu : http://www.legrog.org/jeux/monster-of-the-week
Dans cet épisode, nous vous proposons de découvrir la FACE A de notre France Mystérieuse et contemporaine. Les joueurs habituels incarnent des chasseurs de monstres plus ou moins expérimentés, formant une « famille » recomposée particulièrement dysfonctionnelle… Ensemble, ils vont sillonner les routes de France et anéantir toutes traces de créatures démoniaques… Enfin, ils vont essayer. Première étape, la Sarthe et ses légendes.
La FACE B de ce 15eme épisode, ayant pour cadre Paris, et suivant les aventures d'un autre personnage, est à découvrir par ici : FACE B – MONSTER OF THE WEEK :  EN SOLO 
Dans ce podcast : Un complotiste, une enfant et un initié sont dans un bateau… qui tombe à l'eau ?
Le podcast est disponible sur Itunes et toutes les plate-formes de podcast, ainsi que Youtube
https://youtu.be/biv3-p5LcvA.
OST
Blue Oyster Cult – (Don't Fear) The Reaper
LOST OST
Christopher Lennertz – SUPERNATURAL OST
Jay Gruska – SUPERNATURAL OST
Tabletopaudio
Beowulf OST
Jaws OST