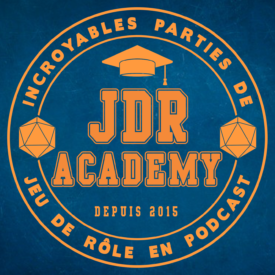 Après une longue pause pas méritée, la JDR ACADEMY est de retour pour la 3ème et dernière partie de la chasse à la Velue, légendaire créature sarthoise.
Nous jouons à Monster of The Week, un jeu de Michael Sands et édité en France par Studio Deadcrows et Raise Dead Editions. Le système est « propulsé par l'apocalypse » et le scénario est maison.
Plus d'infos sur le jeu : http://www.legrog.org/jeux/monster-of-the-week
Nos chasseurs professionnels découvrent le but de la Velue et se préparent au combat final ! Fin du mystère mais avec un arrière goût de galinette cendrée…
A l'affiche : de la magie, des armes qui sortent de nulle part, la pêche aux oursins, des plans foireux, et un duel épique dans le champ de Mme Picot.
La FACE B de ce 20eme épisode, qui suit les aventures d'un magicien parisien contre les terribles Écorchés  arrive début janvier ! !
Le podcast est disponible sur Itunes et toutes les plate-formes de podcast, ainsi que Youtube.
Rejoignez nous Twitter, Facebook et le discord Magnéto Roliste
OST
Blue Oyster Cult – (Don't Fear) The Reaper
LOST OST
John Williams – JAWS OST
Christophe Beck – BUFFY OST
Jay Gruska – SUPERNATURAL OST
Tabletopaudio
Kansas – Carry on my wayward son