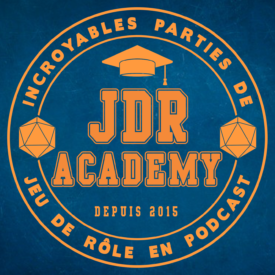 Enfin la dernière partie de notre double trilogie sur Monster of the Week !
Un jeu de Michael Sands et édité en France par Studio Deadcrows et Raise Dead Editions. Le système est « propulsé par l'apocalypse » et le scénario est maison.
Valkann du podcast Dice & Clic incarne Luc Lacroix, magicien parisien, qui affronte seul les mystères de la Capitale. Depuis  deux épisodes, notre héros est à la poursuite des Écorchés de Fragonard…
Dans ce podcast :  de la magie bien sûr, des jets de dès moisis évidemment et un final dans les vraies profondeurs de Paris.
Retrouvez tous les épisodes sur apple podcasts, podcloud, spotify… et youtube !
Pour rappel, vous pouvez suivre en parallèle les aventures d'une autre équipe de chasseurs qui parcourent les routes de France, par ici 
OST
Blue Oyster Cult – (Don't Fear) The Reaper
Michael Giacchino – LOST OST
Christophe Beck – Buffy OST
John Carpenter – The Fog OST