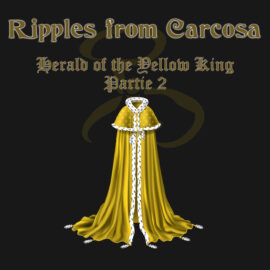 Ripples from Carcosa – Herald Of The Yellow King – Cthulhu Hack – #2 – Trahison
2ᵉ partie de la campagne : Ripples from Carcosa ! On change de système et on passe de L'Appel de Cthulhu à Cthulhu Hack pour cette aventure en l'an mil.
À peine rentrée et déjà renvoyée sur les routes, notre vaillante délégation va devoir aller rendre compte de la situation des autres villages pour le seigneur du château.
Au programme : Un étrange village, des hommes bêtes, une trahison, un mystérieux conteur et une vague de folie ! Vont ils survivre ? Pourront-ils sauver la région de la menace qui s'éveille ?
Le MJ est Valkann, les joueurs sont Riley, Jordi, Malohin et Benzebuth.
Retrouvez tous les épisodes de la JDR Academy sur www.jdracademy.fr